To get your hands on your dream job, you should include some modern resume add ons in the equation. Aside from the trends and layout, you should also ponder on what to incorporate in your resume for 2018. A creative job application and these modern resume add-ons ought to help you land your dream job.
When to Use Creative Resume Inclusions
Contemporary creative resumes are definitely not for every job applicant. If you're applying as an accountant, doctor, or bank manager, employers might prefer the traditional one. But if you were an aspiring web artist, graphic designer, or multimedia expert, a stellar portfolio and creative resume would surely leave an impact.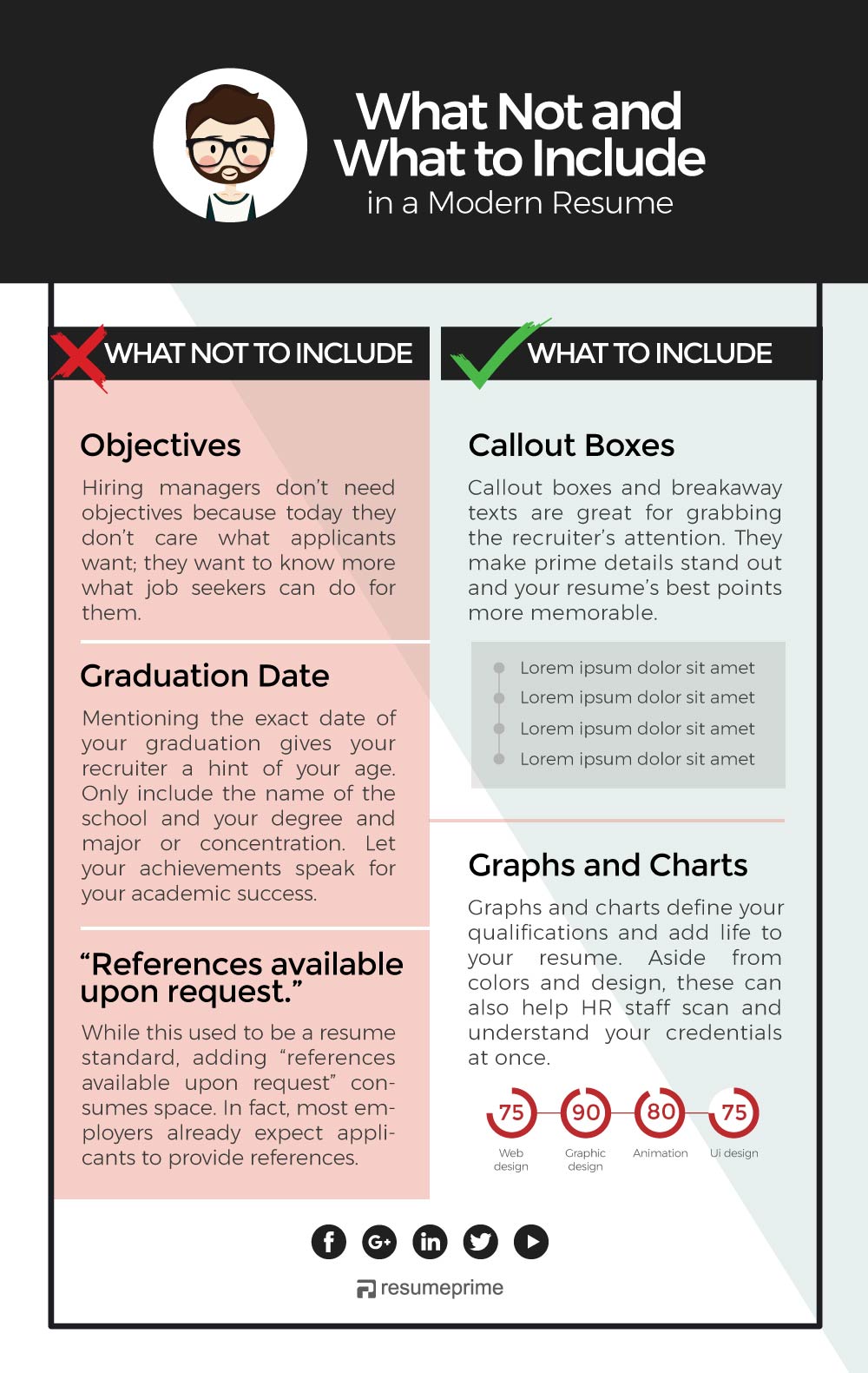 The Six Fix: How to Make a Modern Resume
Ready to craft a creative application file with modern resume add-ons? Below are the tips and steps from Creative Bloq and Envato Tuts+.
1. Select your fonts wisely.
Being a designer doesn't mean you have to follow the trends in typography. More than font updates and fancy design, aim for what's legible and what could define your personality.
2. Maximize space using columns.
One trick to maximize the space on your one-page resume without looking crowded is to use columns. You can place shorter sections below your photo while the detailed chunks of info go to the wider column on the right.
3. Add touches of color.
Adding touches of color is a good way to display a discreet personal touch on your resume. Be careful, though, on your combinations. Not all colors complement well with each other. You do not want to make your resume look festive and booming with opposing colors.
4. Inject your personal brand.
Creating your personal logo or brand is a great way to both elevate your application and prove that you can still be creative while working on a set of brand rules.
5. Keep it formal and simple.
Keep in mind that you cannot use these modern resume add-ons for all fields. Before you create one, you must research first if the format you have in mind suits your target job and field.
6. Win hearts with graphs and infographics.
Maximize the use of graphs, shapes, and icons when you elaborate your skills, awards, and hallmarks. These visuals will make your resume pleasing on the eyes.
To stress a point, you cannot stuff everything in your resume. If you want to get employers' attention, using a resume template must not be your best shot. You must upgrade and add unique and interesting details. Squeeze your creative juices and pour it into your resume. For more resume writing tips, you may go to our blogs page.
Sources learnhowtobecome.org | business.tutsplus.com | creativebloq.com | resumetips2018.com
Related Articles:
5 Modern Job-Search Facts Every Applicant Should Know
Professional Resume Prep: Guide to Setting High Standards