How long should a resume be?
This question has long been a subject of debate and still bothers many job seekers today. Do hirers require certain number of pages to present one's qualifications? Does the industry dictate the required length of a resume? How crucial is the resume page count for recruiters?
Will you craft a 2-page summary to impress the hiring manager? Is a 1-page application tool enough to convey how you're the perfect fit for the post? Read on as Resume Prime tackles this issue.
How Long Should a Resume Be?
First off, we're talking about resumes and not curricula vitae (CVs), which normally come between 2 and 3 pages.
To set the record straight, no definitive rules on resume length exist. Yet, career coaches' expert advice has set the standard during the past few decades.
Know that resume length grows with the amount of your qualifications. The skills, strengths, and experience you've obtained can determine its length. Likewise, the level of your career or candidacy is also a factor that affects the number of pages of your resume. Lastly, the type of job you intend to pursue may also serve as basis of resume page count.
Remember, the amount or years of experience alone aren't always relative to lengthy profiles. The same goes with skills sets alone. No matter how impressive your achievements are, your resume—and how you present your qualifications—weighs greater than them.
Without stereotyping, let's tell which among job aspirants should have a one-, two-, or three-page resume. Remember, this has been the standard which remains applicable to this day.
One Page
A single-page resume is ideal for students, recent grads, first-time job seekers, and those with little amount of work experience. Career shifters may also find a one-page resume helpful as they transition to a new career path.
What about hopefuls having 3 to 5 years of professional experience? Well, associate job seekers should aim for a full page!
Less is more, especially if you learn to maximize a page with your major qualifications in it. This way, recruiters will find ease plowing through it and lead them straight to the information they seek. Indeed, one-page resumes will stand the so-called 6-second review!
Two Pages
Career coaches unite in saying mid-level candidates whose relevant experience spans over 5 to 10 years should write a 2-page resume.
Be sure the second page is at least half-filled. It must contain the same header placed on the first page, as well as the page number to guide the reader accordingly.
Three Pages or More
As expected, the question "how long should a resume be" most applies to senior-level candidates and technical job seekers, since they can have a resume of 3 pages or longer. Further, people in academia or sciences seeking to convey their publications, patents, and licenses have to write long resumes, too.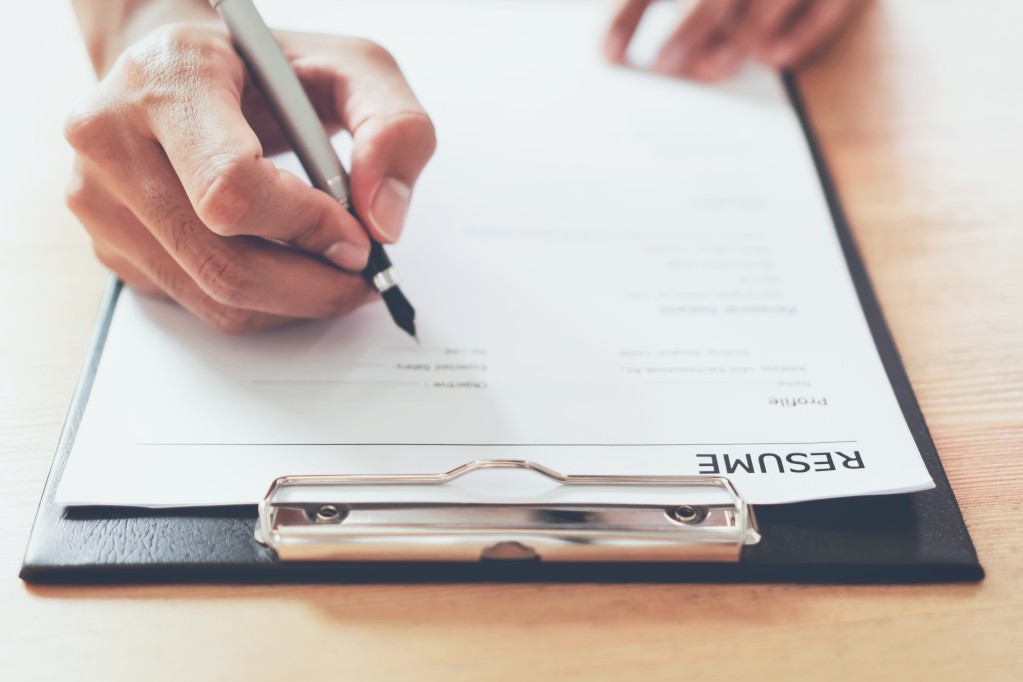 On the Format and Length of Your Resume
Resume format (somehow) affects your application tool's length. Hence, choosing the right format leads to proper arrangement of sections, giving you a resume in its exact or ideal length as it needs to be.
Visual enhancers like bullet points and tables will also impact how you present your data regardless of the format used.
Best Typeface and Font Size
Can't achieve a one-page resume because details overflow onto the second page? Play with the font style or/and font size instead.
Make the texts smaller by changing the typeface first. It's best to use highly readable and formal fonts, such as Cambria, Book Antiqua, Arial, Calibri, Georgia, and Constantia. Avoid fancy and curly fonts at all cost.
Changed the font style but it still didn't work? Well, try to change the font size. An 11-point font often works best. Likewise, you can shorten the size of line spaces as the need arises.
Note: Use only 1 font style throughout your resume. Two fonts may be an option but use the second one minimally.
How Long Should a Resume Be: Tips to Heed
Aside from the points mentioned above, follow these tips to ease the writing process:
Create a long draft and cut it down when rewriting it.
Keep your resume short but get every vital detail in.
Review the ad's job descriptions and use them as guide in making your piece relevant to the post.
Maintain balanced margins on all four sides.
Make it easy to read no matter how long or short it is.
Keep a good balance between texts and white space to make the output look neat.
Write for both human and applicant tracking system.
So, how long should a resume be? It's up to you. It depends on what you wish to tell the hirer—without selling yourself short.
Length matters, but the content and quality of your resume weigh greater than this!
Now, make a rough draft and include everything here. Tailor it to your target job afterwards. If possible, cut the details "ruthlessly."
Is resume writing not your cup of tea? Work with an expert writer. Hire our pro resume writing service and we'll help you succeed with your job search.
Sources: The Balance Careers | Jobscan